Decision Engine, Fintech 4 min read
How new credit decisioning approaches are
empowering credit teams
Whether they rely on an in-house-built decision engine or legacy decision automation software–credit decisioning has always created friction for lenders. Rigid structures often make it challenging for lenders to adjust and evaluate their risk selection quickly. Yet, to grow profitably, especially in a high-interest rate environment, it has become critical for lenders to continuously optimize how they assess risk and ensure they lend to the right borrowers.
Fortunately, technological advances in digital decisioning and machine learning have enabled a few software providers to create truly agile and data-driven solutions for credit decisioning. Clunky and time-consuming processes have been transformed into data-driven, simple, and iterative ones - ultimately giving rise to a new and improved category in digital decisioning: Interactive Decision Design.
This article provides an overview of what Interactive Decision Design is and how it enables lenders to react to market changes quickly, grow their loan books profitably, and launch new lending products rapidly–all in a data-driven way.
Key takeaways
Technological advances have given rise to Interactive Decision Design, the evolution of digital decisioning
It allows non-technical and technical users to interact in one tool to design, test, and iterate on automated decision flows
By enabling non-technical people to design decisions, lenders can react to market changes fast and save significant engineering resources
Through powerful data integrations, lenders can use Interactive Decision Design to make highly accurate decisions that increase lending volumes without increasing risk
They can also infuse their decisions with predictive models to create the most accurate credit assessments yet
Going beyond one-off decision automation, they can use data to constantly experiment with decision flows to create the optimal policy for every customer segment
To capture these benefits, lenders worldwide are using software providers at the forefront of Interactive Decision Design, like Taktile, to grow profitably
What is Interactive Decision Design?
At its core, Interactive Decision Design ensures that the right people in an organization can quickly build, test, and iterate on automated decision flows. Through a no-code (or low-code) user interface and powerful data integrations, non-technical and technical teams can collaborate to optimize credit policies consisting of complex rules and predictive models. This allows them to undertake highly accurate risk selection, leading to increased lending volumes and profitability.
What does Interactive Decision Design do for lenders?
There are four key ways that Interactive Decision Design benefits lenders:
1. Complex credit decisioning made simple
Interactive Decision Design enables anyone to become a decision designer. This means that both, non-technical and technical people, can use the same tool to create and iterate on decision flows - whether it be a credit analyst adjusting pricing logic, a manager approving a flow, or an engineer creating custom rules in code. All the relevant people in an organization are empowered to turn complex credit policies into simple automated decision flows that can be adjusted easily.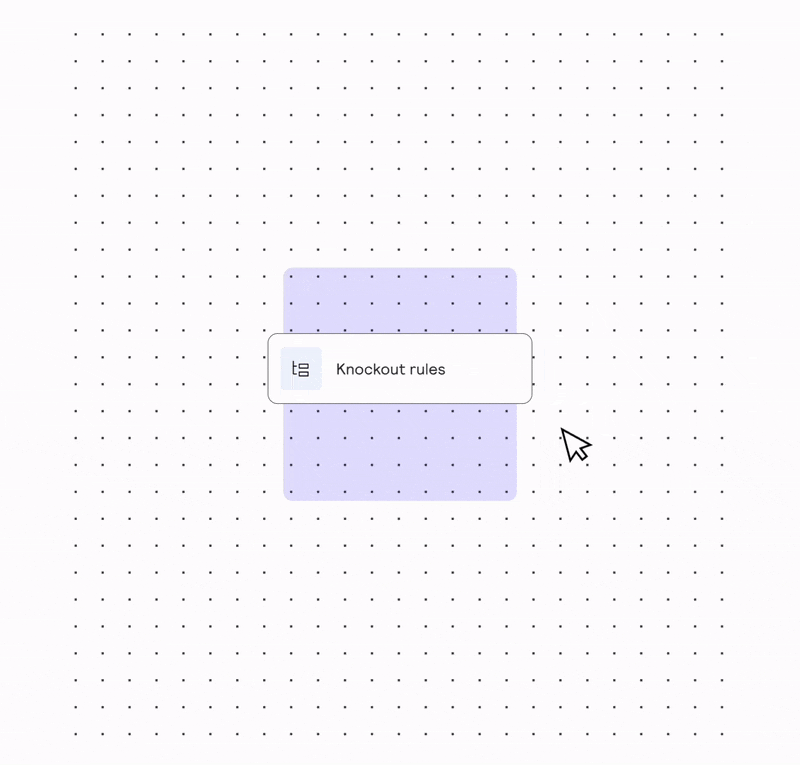 By enabling non-technical teams to design decision flows autonomously, decision-makers no longer have to wait for engineering teams to adjust their decision criteria – they can just make the changes themselves. As a result, lenders can react to market changes quickly and, at the same time, save significant engineering resources.
To do this, lenders use Taktile, a software provider enabling credit teams to build, test, and iterate on automated decision flows.
"At SaveIN, we are extremely focused on managing high growth along with profitability and sound portfolio dynamics. Taktile helps us in efficient risk management and flexibility in decision making."
2. Seamless, off-the-shelf data integrations
To effectively assess borrower risk, lenders need to be able to truly interact with a combination of available data and external data sources, such as credit reports, in their decisioning. Interactive Decision Design allows lenders to enrich decisions with highly detailed borrower insights to create more accurate credit assessments, which leads to lower loss rates and more effective product growth.
The challenge lenders have previously faced is the complexity of adding novel data sources into their decision-making processes. Developers must build and maintain data integrations and process the (raw) data obtained from them to generate meaningful insights for decision-makers.
A key benefit of an Interactive Decision Design platform is the ability for non-technical users to interact with these data sources easily and integrate them into decision flows without requiring any engineering support. Even more, credit teams can continue adding more data sources as their requirements evolve.
Taktile, for example, provides lenders with everything from off-the-shelf data integrations to highly customized insights derived from raw data, which can be used in decision flows.
"Taktile enables us to launch our lending offering quickly and takes care of all the necessary data integrations, so we don't have to."
3. Augmenting human with machine intelligence
Interactive Decision Design also allows lenders to go beyond simple rule or heuristic-based decisioning. Through human and machine interaction, credit teams can easily design decision flows that combine expert rules with predictive models. This enhances decision accuracy and helps lenders to enhance their risk selection even further. 
Traditionally, lenders base decision rules on limited data sets, such as if a credit score is over X, then approve. But considering the vast amount of novel data integrations made available by Interactive Decision Design platforms, predictive models have become essential in understanding patterns in the available customer data. 
Take cell phone data, for example - data providers such as CredoLab offer thousands of data points that would overwhelm even the most experienced credit experts. In these cases, state-of-the-art lenders use predictive models that provide them with entirely new ways to derive meaningful insights from customer data. 
Taktile is enabling lenders to leverage alternative data sources and deploy predictive models to offer loans to customers in previously underserved customer segments and, thus, improve financial inclusion.
"Taktile helps us safely generate hundreds of thousands of machine-learning-driven credit decisions every day."
4. Evidence-based policy optimization
Another way state-of-the-art lenders drive profitability is their constant focus on iterating and optimizing their credit policies. Interactive Decision Design empowers anyone to interact with data (whether synthetic or historical) to continuously evaluate the performance of decision flows and run experiments to optimize their risk selection.
Given that most decisioning approaches only enable technical teams to interact with decision flows, it has been challenging for credit teams to test proposed policy changes properly. 
Interactive Decision Design platforms have changed that. Credit teams can conduct backtests or what-if-analyses and set up experiments on subsegments of a population (for example, A/B testing) before rolling out a new decision flow to their wider customer base.
By enabling credit teams to continuously optimize their credit policies, Taktile removes the guesswork in decisioning and empowers lenders to undertake risk selection in a data-driven way.
"Taktile provides our team the capability to iterate on our pricing logic on a weekly basis without requiring any help from our Engineering team, which has resulted in significant margin improvements."
The impact of Interactive Decision Design in lending
Grow lending volumes without increasing risk
Iterate in a data-driven way to remove the guesswork from decisioning and only sign customers that match your strategy.
Speed up policy iteration cycles
Reduce engineering capacity, enable the right people in your organization to perform policy updates, and increase the speed at which you iterate on your policies. 
Develop new lending products quickly
Launch new lending products in a matter of weeks by automating decisions with off-the-shelf data integrations for all relevant geographies and use cases.
Expand into untapped customer segments
Use alternative data sources to undertake automated credit assessments for customers without traditional credit histories.
Differentiate your offering with personalized, competitive loan offers
Leverage the right data for each customer segment to provide all borrowers with highly customized loan offers.
Provide a seamless borrower experience
Automate decision-making to significantly reduce loan approval times and provide a quick and easy borrower application process.
Taktile: The software provider at the forefront of Interactive Decision Design
Lenders worldwide are using Taktile, a leading software provider that helps lenders grow profitably by empowering non-technical and technical teams to quickly build, evaluate, and iterate on automated decision flows that combine expert rules and predictive models. 
In addition, Taktile enables decision-makers to experiment continuously and make highly accurate risk assessments through seamless data integrations requiring zero maintenance. From ready-to-use credit bureau data to highly customized KPIs generated from raw transaction data, Taktile takes care of the implementation for you.